1Million March 4Children:
This march isn't anti gay or anti trans. It is anti interference in parental rights and responsibilities. If the schools and levels of government succeed in taking parent's responsibility and right to employ the same, the slippery slope will go quickly downward and we will have state controlled parenting.
Code of Conduct:
Children may be present. Please, no violence, no inappropriate signs/flags. This is a family focused, peaceful assembly. Parents & caregivers of our children, youth and minors, will come together, to send a clear message to all levels of government & NGO's to "Leave Our Kids Alone", "Protect Parental Rights" & "Childhood Innocence".
Oct. 21st 2023
Chilliwack British Columbia
"Leave Our Kids Alone"
"Protect Parent's Rights"
1 Million March 4 Children
United With North America & The World
Remove SOGI Learning Resources From Schools
STOP the Sexualization of Our Children in Schools

Oct. 21 2023 10am Gather at the old Canadian Tire parking lot (7544 Vedder Rd.)
Meet like minded people, share stories, make signs.
11am Start: March.

Family Friendly PEACEFUL Conveyance of Expression
Uniting Diverse Backgrounds & All Faiths
#1MillionMarch4Children

This is an organic movement.
We are brothers & sisters in humanity coming together peacefully to protect our children.
Everyone, regardless of faith or belief, is warmly invited to march alongside us in unity and friendship.

T-Shirts will be available, Minimun $20. donation per shirt.

| Route: Follow the front of the March |
Inclusion Statement
|
FAQ
|
Join the Community Facebook Group
|
|
Be Aware of Scams
|
Locations & Other Peacefull Protests
|
---
#1MillionMarch4Children: A March for All By All

Dear Friends,
In a world increasingly divided, we invite you to be a unifying force by joining us in the 1MillionMarch4Children.com initiative.

Our Cause Knows No Boundaries
Our mission is clear and singular: to advocate for the well-being and safety of children everywhere. This is a cause that transcends divisions - be they of race, religion, nationality or sexual orientation.

Inclusion is Our Strength
We are a diverse collective of people from all walks of life and that makes us strong. We believe in drawing wisdom from multiple perspectives and gathering strength from our collective experiences.

Support from the LGB&T Community
We are proud and grateful to announce that our initiative has the full suport of various groups, including activist and organizations from the LGB&T community. Your support not only amplifies our message but also makes it richer and more inclusive.

Faith Groups, Ethnic Communities, Everyone!
We extend an open invitation to people of all faiths, beliefs, ethnic and racial backgrounds to join us. Your values, rooted in love, empathy and a shared desire for justice, enrich the 1MillionMarch4Children.

What Unites Us Is Greater Than What Divides Us
In this endeavour, we do not identify ourselves by labels based on race, religion or sexual orientation. What identifies us is our shared goal: to protect, uplift and create a safer world for our children - a mission that transcends all else.

Stand With Us
Join us in making the 1MillionMarch4Children a truly inclusive march for all, by all. Share this message with your friends, family and communities. Together, let's offer every child a world united in it's love and concern for them.

In unity and respect,
The 1MillionMarch4Children Team, Chilliwack
---
Who can participate?
Anyone at all who cares about letting children be children and protecting them from potentially harmful indoctrination.

You deny the existence of trans people.
No.

Do we have to be Christian?
Everyone, regardless of faith or belief, is warmly invited to march alongside us in unity and friendship.

Do we have to be cis-gendered hetero-normative pro-patriarchy conservatives?
Absolutely not. Our movement is inclusive and diverse. We're proud to have supporters from all walks of life, including those who identify as liberal-minded, gay, lesbian, and gender nonconforming.

Is this anti-LGB+
By no means. We deeply value the rich spectrum of perspectives within the LGB+ community. If you share our belief that discussions on gender ideology should be approached at age-appropriate times, we wholeheartedly invite you to stand alongside us and amplify this message.

What is your stance on children's exposure to SOGI?
We believe in the importance of letting children grow and explore naturally. Children are naturally curious and imaginative. Our concern is that certain decisions, especially those that have permanent, life-changing consequences, should be made when an individual is mature enough to fully grasp their implications. Just as we might believe a child is too young to consent to a tattoo, we similarly believe they should be protected from making irreversible decisions about their bodies at a young age.

I think you are alt-right hateful and violent extremists.
We appreciate diverse perspectives and always aim to create a space of respect and unity. Our core values oppose any form of violence or hatred.

You're just ignorant: get some education!
We value education and diverse perspectives. Many within our group have advanced degrees, while others bring invaluable life experiences. We believe in informed discussions and welcome civil and respectful dialogue with all viewpoints.

Why do you hate teachers who are protecting children from abusive parents?
We unequivocally do not harbour any negative feelings towards educators. In fact, many members of our group have backgrounds as trained, certified, and respected teachers, cherished by their students.

We firmly believe that cases of abusive parents should be promptly reported and handled by law enforcement and child protection services. Notably, in several Canadian provinces, neglecting to report suspected abuse is a criminal offense.

Statistics consistently demonstrate that abusive parents represent a stark minority. The vast majority of parents are deeply invested in their children's well-being, dedicating countless hours and immeasurable love since birth. They inherently desire the best for their child. Thus, we believe that not transparently sharing the content of a child's education with their parents is a significant oversight.
---
Our mission is to Unite People for a Noble Cause, to safeguard children from gender ideology teachings, sexual indoctrination, exposure to explicit sexual content, ensuring that parental consent remains paramount.
We will protect our children from thought control and will ensure their religious freedoms are protected. We firmly believe that the government should respect the rights of parents, and schools should focus on subjects that prepare children for their future.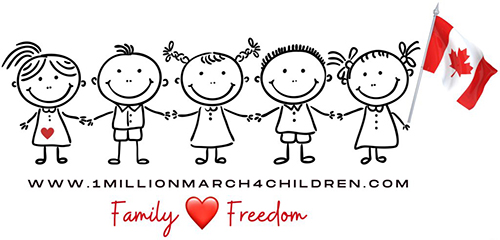 To find a #1MillionMarch4Children march near you
visit the National Facebook Group.
Or
check out the National Website
.
Contact us
chilliwack@protectchildhoodinnocence.com
---